The marbling gods shine really favorably on the Chuck Short Rib. For those in the know, it's a crowd favorite for that reason. Usually we'd tell you to braise and slow cook this cut. But because we're feeling a bit spicy, we're going another route. But that's the beauty of the Chuck Short Rib: it's the golden child and gets straight A's no matter what you throw at it.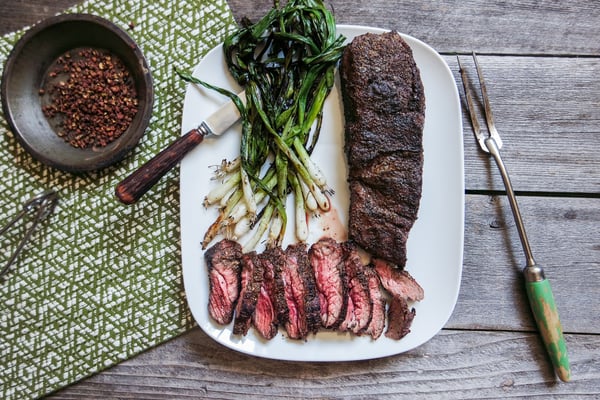 Our awesome friend and queen of the BBQ, Jess Pryles created a decadent recipe using our chuck short ribs. Our 100% Fullblood Wagyu Chuck Short Rib is a match made in heaven for this Sichuan-inspired recipe.
Sichuan Pepper Dry Rub Beef Short Ribs
By Jess Pryles
INGREDIENTS:
1 x Lone Mountain Wagyu beef short ribs (about 1lb)

For the Sichuan dry rub:

3 tablespoons

Sichuan

peppercorns

1 teaspoon five spice powder

1/2 teaspoon garlic powder

1.25 tablespoons kosher salt
INSTRUCTIONS:
Heat a grill for medium heat two zone grilling. So, you should have the coals to one side, and the hot side should be around 350-450f.

Prepare the dry rub:

Toast the peppercorns in a dry skillet over low heat until fragrant, swirling them in the pan to keep from burning (about 2 minutes).

Allow the peppercorns to cool slightly, then add to a spice grinder or mortar and pestle, along with the five spice, garlic powder and salt. Blitz or crush until a fine powder has formed.

To cook the meat:

Prepare the short ribs for grilling by patting with a paper towel, then slathering on dry rub, and rubbing in well on all sides of the meat. Ideally, you want to use a whole slab of rib because it will have a better grilling result than using the short rib 'fingers' that have been sliced.

Place the meat onto the hot side of the grill, and grill 3-4 minutes per side to sear, being cautious not to burn the dry rubbed spice. Once you have seared the meat, move it to the cool side of the grill, so it can finish cooking without the spices burning. Continue to cook until the ribs reach an internal temperature of 136-138f.
Remove ribs from heat once at temperature, and place on a board. Cover loosely with foil, and rest for 10 minutes. Slice against grain and serve.
Purchase your Lone Mountain Wagyu Short Ribs