Our 100% Fullblood Wagyu Tri Tip Roast hails from sirloin primal. It's triangular in shape because it's cut from a section where the sirloin meets the round and flank primal. Our friends, Paul and Andre paid homage to Japan by creating this lovely recipe using ingredients that create a mouth-watering and elegantly flavored Tri Tip.
Buy your Tri Tip
today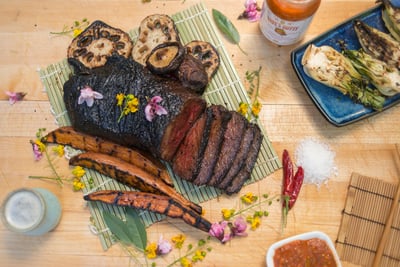 Japanese-Inspired Tri Tip Recipe
Recipe and Photo by Paul and Andre Lambiase
Serves 4
Ingredients:
Dry Rub:
1-(0.52 oz.) Togarashi spice (Japanese 7 spice)
1 tbs. tangerine zest
1 tbs. coarse sea salt
1/3 cup brown sugar
1 tbs. garlic powder
1 tbs. chopped garlic
1 tbs. finely chopped fresh ginger
1 tbs. allspice
1 tsp. white pepper
Marinade:
1-(12 oz.) Japanese dark beer
1-(0.52 oz.) Togarashi spice (Japanese 7 space )
6 chopped garlic cloves
3 bay leaves
1/3 cup low sodium soy sauce
1/3 cup brown sugar
1/3 cup tangerine juice
1 tbsp. chopped ginger
1 tbsp. tangerine zest
1 tbsp. star anise
1 tsp. allspice
Directions for Rub and Marinade:
Mix dry rub ingredients in a gallon-size ziplock bag
Coat tri-tip generously with dry rub on all sides
Massage rub thoroughly onto tri-tip
Let tri-tip rest for 4 hours
Using the same rub ziplock bag, place the marinade in with the coated tri-tip
Let tri-tip marinade for 24 hours in refrigerator
Before grilling, let tri-tip come to room temperature for at least one hour before grilling
Take tri-tip from marinade pat dry with paper towels
Coat tri-tip with 2 tbsp. sesame oil
Directions for Grilling:
When ready to grill, preheat grill to about 350-400 degrees
Place tri-tip directly over flames on hot grill
Close lid and watch for flare-ups
Cook for approximately 10 min. per side (only flip once; can take up to 20-25 min. to cook 2 lb. tri-tip)
Insert thermometer into thickest part of the meat (Rare: 120° /Medium rare: 130°/Medium: 140°)
When cooked to your desire, transfer meat to cutting board - preferably one with deep well so you don't lose the juices
Tent the meat with foil and allow meat to rest for at least 5-10 minutes
Uncover and cut in half, where the grain changes direction, then cut each piece against the grain into 1/2" slices.
Enjoy with your favorite side dishes!