We are happy to introduce, for the first time ever, the Lone Mountain Wagyu Flank Steak. If this is your first time with flank, rest assured, your beef prep repertoire is now a long way to golden. It's a versatile cut. And when marinated with some bold flavors and then cut thin sliced "on the bias" (aka at an angle), you'll be just … as biased as we are about the smash hit potential of this cut.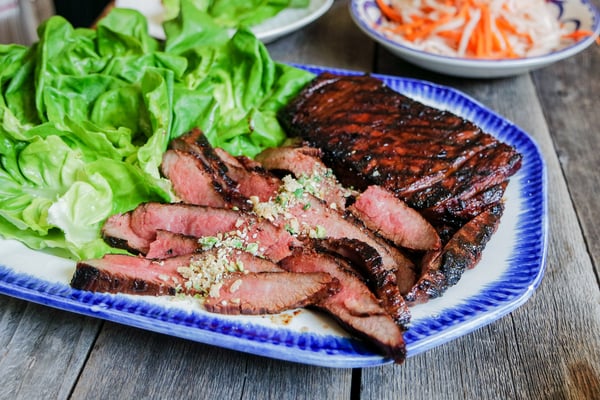 Korean Ssam with Marinated Flank Steak
By Jess Pryles
INGREDIENTS:
2 lb (approx) Lone Mountain wagyu flank steak
1/2 cup soy sauce
1/2 cup gochujang sauce
2 teaspoon Korean chili powder
1 tablespoon fresh ginger, grated
1 teaspoon sesame oil
1 iceberg or butter lettuce
1 lime, cut into segments
¼ cup roasted salted peanuts, crushed
INSTRUCTIONS:
In a large container or gallon zip top bag, combine the soy, gochujang, Korean chili, ginger and oil. Add the flank steak, massaging the bag so the entire steak is well coated in marinade. Place in the fridge for 2-6 hours.
Prepare the lettuce by washing and separating the leaves to used for wrapping the ssam.
Heat a grill for medium high heat (450-550f) cooking.
Remove the steaks from the marinade and place onto the grill. Cook untilthe internal temperature reaches 135f, flipping the steak every 3 minutes. This should take approximately 10-15 minutes all up.
Once the steak is at the correct temperature, remove it from the grill, cover loosley with foil and rest 10 minutes. 6.Slice the flank steak against the grain, and serve with lettuce cups, Korean pickle, crushed peanuts and fresh lime.