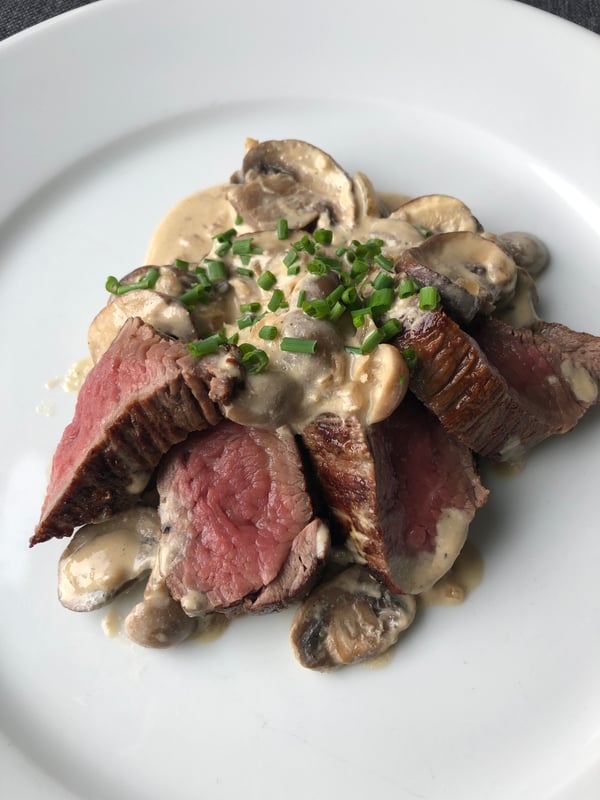 This one skillet recipe comes is quick enough to prepare for a weeknight meal but fancy enough
for company.
Serves 4
Ingredients:
2 pieces (about 1 pound) Lone Mountain Wagyu Teres Major
Salt and ground black pepper
2 tbsp. vegetable oil
3 tbsp. butter
8 oz. button mushrooms, cleaned and sliced
1 large shallot, peeled and minced
2 cloves garlic, peeled and minced
1/3 cup dry white wine
½ cup sour cream
1 tbsp. Dijon mustard
1 tbsp. minced chives
Directions:
1. Heat a large dry skillet over medium heat. Meanwhile, using a knife, trim and discard silver
skin from the beef. Generously season with salt and pepper. Add oil to skillet, swirling to coat
bottom of pan, and increase heat to medium-high. Sear meat until well browned on all sides, 6-
8 minutes. Transfer to a plate, loosely cover and set aside to let rest while you prepare the
sauce.
2. Return pan to medium heat. Add butter, mushrooms, shallot and garlic and cook until
mushrooms begin to soften, about 2 minutes. Add wine and cook until reduced by half. Add
sour cream and Dijon and cook, stirring often, until sauce is thickened enough to coat the back
of a spoon. Season to taste with salt and pepper.
3. Slice beef into medallions and serve with mushroom sauce. Garnish with chives.
Buy your Lone Mountain Wagyu Teres Major