Petite Tender Steak with Roasted Garlic Aioli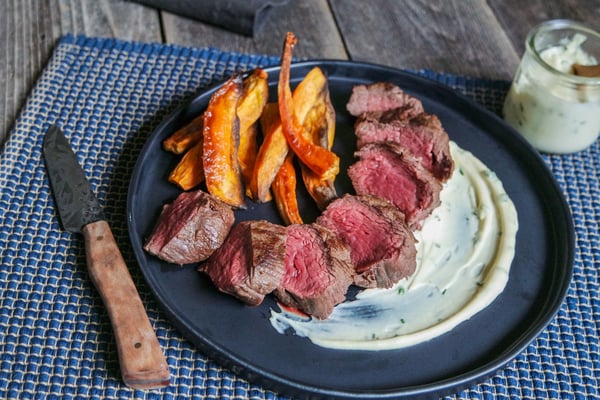 Recipe and Image By Jess Pryles
INGREDIENTS:
1 x 14-16 oz piece of Lone Mountain wagyu petite tender

2 heads garlic

1 cup plus 2 tablespoon olive oil

1 egg yolk

1 teaspoon lemon juice

2 teaspoon

dijon

mustard

1 teaspoon salt (plus more to taste)

2 tablespoons chives, finely chopped
Buy your Lone Mountain Teres Major Steak
.
INSTRUCTIONS:
To make the aioli:
Preheat an oven to 400f. Prepare the garlic by peeling off the outer papery layers, and cutting off the very top of the bulk to expose the top of the cloves within. Place each bulb into a square of foil, and drizzle with half a tablespoon of olive oil per bulb. Bring the foil up to close the bulb in completely. Place in the oven and roast for 40 minutes.

When the garlic is roasted and cooled, place it in a deep container (or the deep cups that come with the immersion/stick blenders) and add in the egg yolk,

dijon

, lemon juice and salt. Blend by pulsing with a stick blender for a few seconds. Add 1 cup of the olive oil on top, then hold the container at an angle and blend until the entire mix emulsifies together to form the aioli. If too thick, add a little water or more lemon juice and blend again.

Taste

,

add more salt if required

. Stir through the chopped chives.
To assemble the final dish:
Place the remaining

1 tablespoon

of oil into an oven-safe skillet, and place over medium to high flame. Heat an oven to 350f.

If the meat has been

vacuum

sealed

, remove from packaging and pat dry with paper towel, then season generously on both sides with kosher salt. Place the steak into the pan and sear for 10 minutes, flipping the steak over every two minutes.

Once seared, place the pan into the oven, and continue to cook, turning every 4 minutes, until the steak reaches an internal temperature of 135f.

One at temperature, remove steak from pan onto a board,

cover

loosely with foil and rest for 10 minutes. To serve, slice against the grain into medallions and serve with roasted garlic aioli.