If there's anything that can destroy a Monday, it's a tropical paradise with
lush greenery, rolling surf, beaches for days, and burgers. Now, they have
Mondays in Hawaii, but we have it on good authority that this burger
is in fact the way they deal with them... every single week. It's true.
Just look it up. We'll wait. Dinner won't wait, of course, and you might
be wasting your time, and that's a very Monday thing to do. Maybe
it's best if you just go ahead and fire up the grill.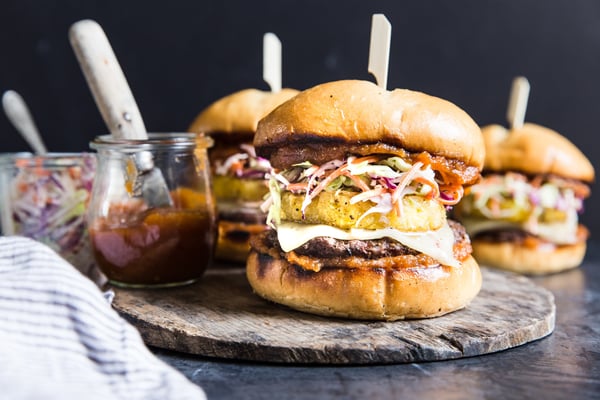 Aloha Burgers
SERVES 8.
FOR BURGERS:
2 packages

Lone Mountain Wagyu

burger patties

8

pineapple rings

8 slices

Pepper Jack cheese

8

hamburger buns
FOR SPICY BBQ SAUCE:
1 (14 oz) can crushed pineapple
1/2 cup

ketchup

2 tbsp Worcestershire sauce
3 tbsp brown sugar
1 tbsp apple cider vinegar
1/4 tsp red pepper flakes
1 tsp garlic powder
1 tsp Dijon mustard
1/2 tsp salt
FOR TANGY SLAW:
3 cups

green cabbage, thinly sliced

1 cup red cabbage, thinly sliced
1 cup carrots, shredded
2/3 cup mayonnaise
2 tbsp apple cider vinegar
1 1/2 tbsp sugar
1 tsp salt
1/2 tsp red pepper flakes
DIRECTIONS:
1.
In a small saucepan set over medium-high heat, bring the BBQ sauce ingredients
to a boil. Turn the heat to low and simmer for 20 minutes until thickened. Puree
the sauce until smooth. Set aside.
2.
In a bowl, mix together the mayonnaise, apple cider vinegar, sugar, salt and
red pepper flakes. Gently toss the dressing with the cabbage and carrots, set
aside.
3.
Heat a gas or charcoal grill. Cook Wagyu burger patties to desired doneness.
Place the cheese on the patty after the last flip. Grill pineapples until grill marks
appear. Toast hamburger buns on grill if desired.
4. T
o build the burger, place the BBQ sauce on the bottom bun. Layer it with the
hamburger patty, pineapple, slaw and top bun.