Beef shanks take a long time to cook and Mondays can take a long time
to get over. The beautiful thing about this outstanding recipe for braised shanks
is that you can project all of your Monday rage and disappointment onto these
delicious little cuts and watch as they slowly and deliciously fall apart. Think
of this dish as a kind of therapy and take your time, savoring how Monday can't
handle the heat. Then pour yourself a big glass of wine and dig in.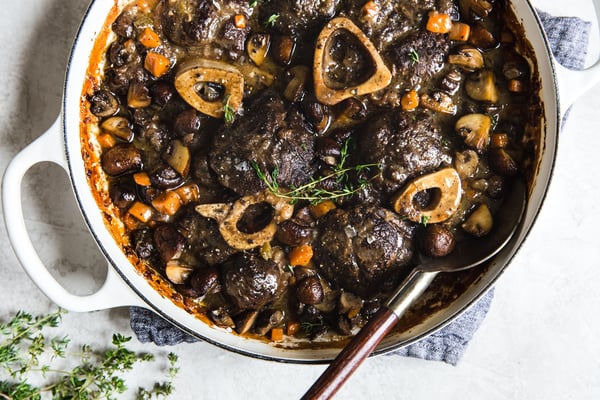 White Wine Braised Shanks with Mushroom Gravy Recipe
SERVES 4.
INGREDIENTS:
3 large

Lone Mountain Wagyu

beef shanks

salt
pepper
2 tbsp
olive oil
1

onion, finely chopped

2

celery stalks, finely chopped

2

large carrots, diced

6

garlic cloves

3 tbsp
flour
3 cups dry white wine
1 lb

Baby Bella (Crimini) mushrooms,

quartered
2

sprigs fresh thyme

2

bay leaves
DIRECTIONS:
Heat oven to 350°F. In a braiser or shallow dutch oven, warm the olive oil over medium-high heat. While olive oil is heating, pat dry shanks and generously season with salt and pepper. Once oil is hot, add the shanks to the pan. Do not disturb or flip them for 3-4 minutes. Once both sides are browned, remove them from the pan onto a plate.

Add the onions, celery and carrots to the pan and sauté until the onions

are translucent. Add the garlic and cook for another 2-3 minutes.
Sprinkle the mixture with flour and stir until absorbed. Slowly stir in the wine and add the mushrooms, thyme and bay leaves.
Place the meat back to the braiser, nestled into the veggies. For a good braise, you don't want it fully immersed in the liquid. Bring the liquid to boil. Cover with a tight-fitting lid and place in preheated oven. Cook for 2½-3 hours. Meat should gently fall apart with a fork when done.
Buy our incredibly rich Lone Mountain Wagyu Beef Shanks