Seared Sous Vide Top Sirloin Steak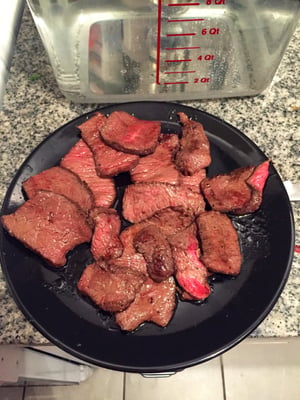 Recipe by Leo & Jen Vladimirsky
Ever wonder what else you can make with your Sous Vide? Here's another super simple yet absolutely delicious recipe made with our Top Sirloin Steaks.
Serves 2
Ingredients:
Sea Salt
Fresh Cracked Black Pepper
Vacuum Bag/Ziploc Water Seal
High Quality Butter or other high heat oil like Sunflower Oil
Sous Vide Machine
Directions:
Heat Sous Vide to 124 degrees
Pat steaks dry on both sides
Season steaks liberally with Sea Salt and Fresh Cracked Black Pepper
Put steaks in bag and immerse in bath
Cook steaks for 75 minutes
Remove from bath and pat dry again
Slice thinly against the grain (very important step!)

Heat high heat oil very hot in cast iron or stainless skillet. Then add butter.

Place 5 slices down sequentially and as soon as you've placed the last one down, flip the first one and work your way to the last one
The trick is to not cook the steak more but just to sear
Enjoy with your favorite sauce, salad and wine!
Buy your Lone Mountain Wagyu Top Sirloin Steaks