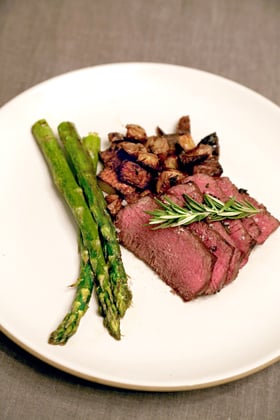 Filet Mignon steaks come from the Tenderloin muscle which is one of the most tender parts on the animal. By utilizing the Sous Vide method, it frees the home chef up to prepare the other components of the dinner and know that the beef will come out perfect every time. Sous Vide also ensures perfectly cooked beef edge to edge. Here's the Sous Vide recipe for the perfect Lone Mountain Filet Mignon Steak (can be adapted for Strip or Ribeye Steaks as well)
Ingredients:
Salt
Black Pepper
Aromatics: garlic, thyme, rosemary
1 tablespoon of unsalted butter (or other high-temp friendly oil)
Equipment:
Sous Vide Immersion Circulator
Cast Iron Pan
Directions:
Generously season steaks with Salt and Pepper and add the aromatics like rosemary, thyme and garlic to the sous vide bags and vacuum pack steaks.
Put in 128F water bath for 1 hour (2 hours if cooking from frozen). We like 128F for the perfect medium rare temperature. Adjust up to 135F for medium or down to 123F for rare. Remember, we are going to sear these steaks afterwards and that will add more heat.
Preheat cast-iron skillet with a tablespoon of vegetable oil (or other high-temp friendly oil) and a tablespoon of unsalted butter over high heat.
Remove steaks from water bath and dry each steak very well (crucial step to achieving the perfect sear).
Ready to try this Filet Mignon recipe? Buy your Steaks