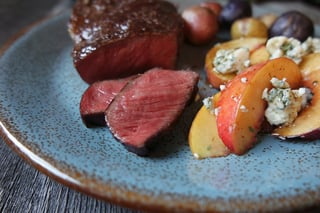 Craving the taste of Summer? Our favorite hardcore carnivore Jess Pryles created this recipe for Peach and Gorgonzola Salad with Spiced Honey as the perfect pairing for our Fullblood Wagyu Ribeye Steaks. This salad is gorgeous. And its touch of sweetness and a dash of savory make for an Umami superstar when paired with the creamy marbling of our Wagyu.
Grilled Ribeye with Peach & Gorgonzola Salad Recipe
Original recipe by Jess Pryles can be seen here
Serves 6
Ingredients
3 - 6

Lone Mountain Wagyu Ribeye Steaks

(three if you're planning to split one steak for two people. Each steak is 16oz)

3 large firm peaches

6 oz Gorgonzola cheese

3 sprigs fresh thyme

2 tablespoons honey

1 teaspoon ancho chile powder

1 tablespoon cider vinegar

1 tablespoon vegetable oil

Salt & pepper to taste
Directions
Heat grill to medium high.
Season your steak generously with sea salt and fresh ground pepper.
Sear each side for 1 minute on hottest part of the grill.
Move steaks to lower heat and cook for 6 minutes on each side.
Let rest 5 minutes.
While the steak is resting, make the salad. Slice each peach in half and remove the pit. Slice the halves into smaller segments, at least 4 per half. Place in a large bowl.

Crumble the gorgonzola and add to the bowl. Tear the thyme leaves from the woody stems and add to bowl along with vinegar, oil, salt and pepper. Toss contents of bowl to combine.

Mix the honey with the ancho chili powder, then drizzle over the salad and serve.

Plate steak and salad together. Enjoy!
Get your Ribeye
and prepare to swoon!