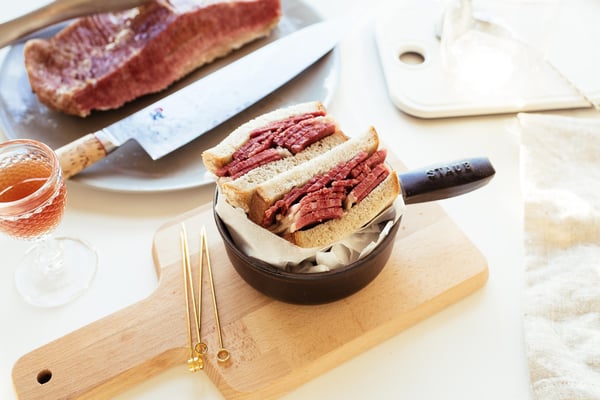 Recipe by Mike Le from IamAFoodBlog - recipe can be found here.
For many, Corned Beef is nostalgic. It's an old tradition with evidence supporting that it made its way to the United States from Ireland. Some historians think that it was a spring dish because it often was cured over the winter and eaten in spring once it was ready. Today, corned beef has become a staple dish in many homes and restaurants. It's made into a variety of dishes such as corned beef hash, corned beef and cabbage, and the famed Reuben Sandwich. Follow this easy recipe for making corned beef at home.
Ingredients:
3/4 cups kosher salt
1/2 cup sugar
2 teaspoons pink salt
4 tablespoons pickling spice, divided in half
1 beef brisket, 3-12 lbs
1 gallon of water (16 cups or 4 liters)
Directions:
In a container large enough to contain the brisket plus water, combine all of the water, salt, sugar, and pink salt. Stir until mixed, then add 2 tablespoons pickling spice. Stir briefly until mixed again, then add the brisket. Weigh the brisket down with a plate. Seal and store in the fridge for 6 days total. After 3 days, give the brisket a flip and weigh down again with the plate.
After 6 days, preheat your oven to 200ºF. Find an oven-proof pot (such as a dutch oven) large enough to hold your brisket and fill it halfway with water. Set it over high heat. Carefully remove the brisket from its container and give it a brief rinse. Add brisket and the remaining 2 tablespoons of pickling spice and wait until the pot comes to a boil, then transfer to oven and braise for 4 hours.
Once done, remove the brisket from the braising liquid from and slice thinly. Store any uneaten brisket with the braising liquid and reheat together to retain maximum moisture. Brisket keeps for 3-5 days in the fridge.
Buy your Lone Mountain Wagyu Brisket 1/2 Flat