Sure... a Bloody Mary is typically a breakfast drink, key to killing any hangover
you might encounter if you overdo it. But... Monday itself is a hangover, the worst
type of hangover — the one you don't deserve. This pepper-infused vodka and Wagyu-
jerky garnished cocktail is the perfect concoction for returning to a pre-prandial,
pre-Monday state. You don't even have to drink it in the morning (we won't tell.)
Cheers. Monday will soon be a distant memory.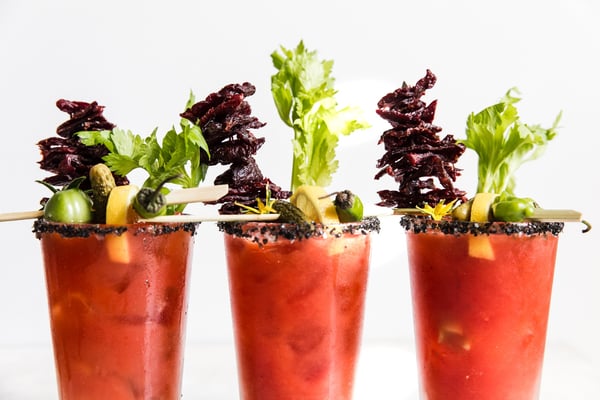 Bloody Mary with Lone Mountain Wagyu Jerky and Jalapeño Vodka
Recipe & Image by: The Modern Proper
Serves 6

Jalapeño Vodka ingredients:
1 ½ cups vodka
1 jalapeño sliced
For salt rim:
1 wedge of lemon
1 tablespoon black salt
½ teaspoon dried dill

Ingredients for 1 cocktail:
2 oz Jalapeno infused vodka
2 oz tomato juice
½ oz lemon juice
1 dash Worcestershire
1 pinch black pepper
1 pinch dried dill
1 pinch salt
Garnish Ingredients:
1 (3 oz.) Bag Lone Mountain Wagyu Beef Jerky
6 celery stalks
cherry tomatoes
pickles

Directions for Jalapeño Infused Vodka:
Place the sliced jalapeño in a jar along with the vodka. Store in the refrigerator for 24 hours. Strain out the jalapeño.
Rim 6 pint glasses with the lemon wedge followed by a mixture of black salt and dill. Fill with ice.
Fill a cocktail shaker with ice. Add the vodka, tomato juice, lemon juice, Worcestershire, black pepper, dill and salt to the shaker.
Pour the cocktail into the salt rimmed pint glass filled with ice.
Garnish with a skewer of beef jerky, celery stalk, pickles and cherry tomatoes.
Ready to enjoy life to the fullest? Start by ordering your jerky