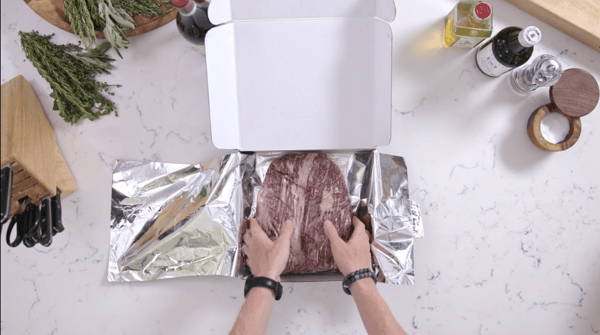 After all the effort of raising some of the world's best cattle and preparing richly marbled cuts of beef, it would be a shame to blow it in the final chapter. That's why we've figured out a way to deliver Wagyu beef to your doorstep without compromising any of the quality.
How is the meat packaged?
Aside from our beef jerky, our Wagyu is shipped in individually vacuum-sealed packages. The packages are then placed Russian-doll style in a branded box, which is then placed inside a ThermoPod with dry ice—which is then snugly nestled inside a cardboard box.
ThermoPods, which sound like a new form of space travel, are actually a replacement for the Styrofoam coolers that are the standard for shipping frozen food. Thanks to their biodegradable cotton insulation and poly film, ThermoPods are dramatically more eco-friendly than Styrofoam.
As mentioned, our Wagyu is frozen and shipped with dry ice, which keeps products frozen exponentially longer than simple ice packs. We switched to dry ice, in part, so that we could ship via UPS Ground, which is both cheaper for the customer and far more sustainable than air freight. Although the dry ice may evaporate by the time it arrives at your door, particularly during summer months, as long as the meat is still frozen, you're good to go.
How is it shipped?
We ship our Wagyu via UPS three-day ground delivery, with two-day shipping and overnight delivery available for an additional fee. Standard shipping is free for orders with a subtotal of $199 or more. We don't ship over weekends, due to Wagyu's perishability.
To store and ship out online orders, we've partnered with Crystal Creek Logistics, out of Hastings, Nebraska. Crystal Creek is a carbon-neutral shipper and certified B Corporation, meaning it meets the "highest standards of verified social and environmental performance, public transparency, and legal accountability to balance profit and purpose."
After much research and testing, we've found this is the best way to get precious frozen product across the country at an affordable rate and in a sustainable manner.
What should you do when the Wagyu arrives?
In no more than three days, your Wagyu should miraculously appear on your doorstep, like a gift from the marbled gates of heaven. Here's what to do when your meat arrives:
When your meat is delivered, store it in the freezer, where it should be good for up to 12 months.
If you have the time, thaw your Wagyu in the refrigerator for up to 48 hours before cooking, which will ensure the beef maintains its natural moisture.
If you're in a rush, you can thaw your Wagyu by submerging the vacuum-sealed package in cold water for a few hours.
If something comes up before you're ready to cook, you can safely refreeze your thawed Wagyu within 24 hours as long as you've kept it refrigerated.
And there you have it—the miraculous machinations of frozen meat delivery explained at last! For more information, check out our shipping FAQ page. And to get some good mail for yourself, we recommend trying our filet mignon steaks, which ship for free!